Packing light is the cardinal rule of getting ready for a trip. This may seem impossible when traveling with babies, as they require so much bulky equipment and other paraphernalia. It is important, however, to balance packing light with packing right. By anticipating problems and carefully choosing smaller items that can fix potential problems that develop far from home, parents are far more likely to have a relaxing vacation.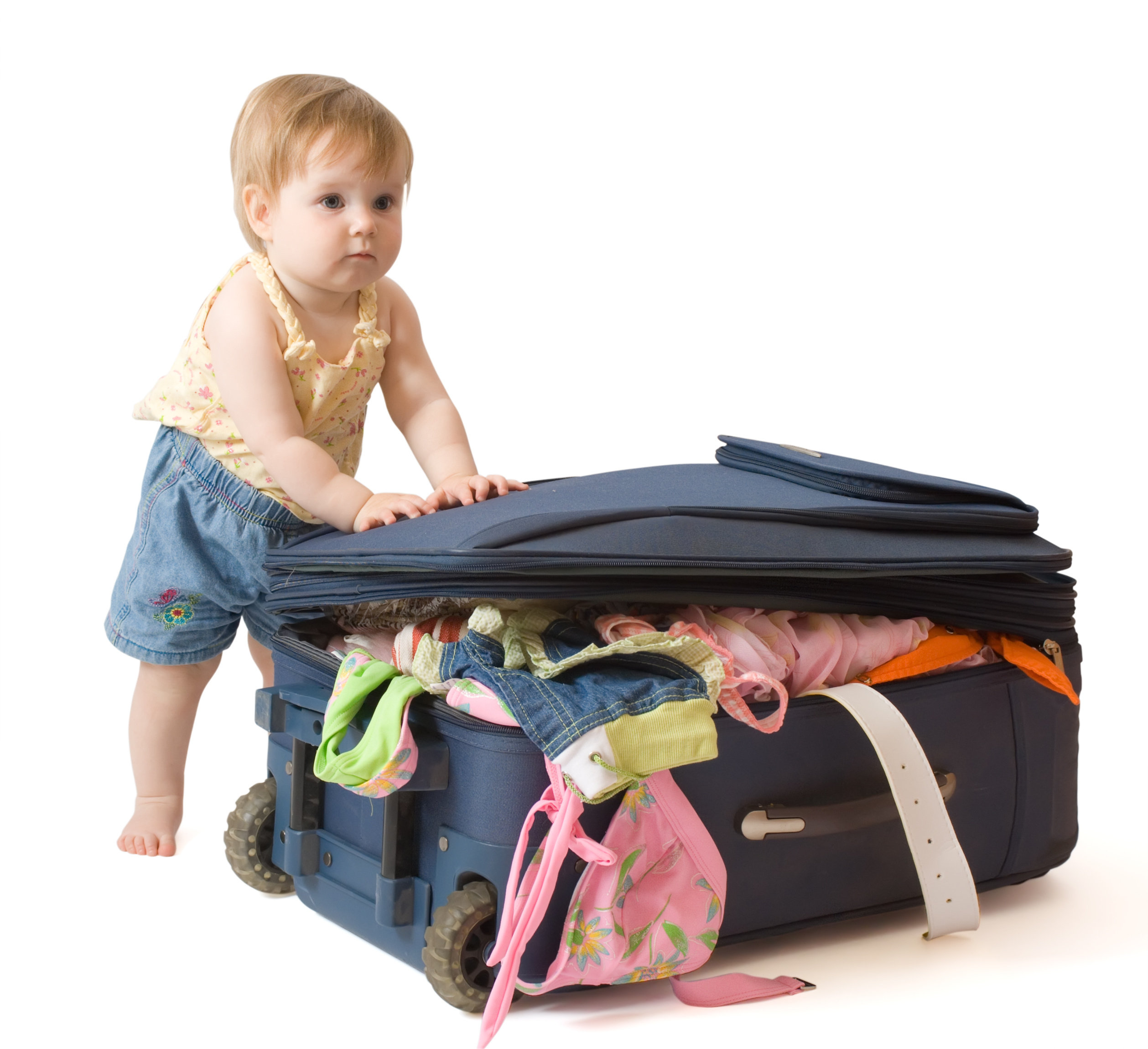 Baby Equipment and Consumables
One way to travel light is to borrow, rent, or purchase used or inexpensive baby equipment prior to leaving or upon arrival. If visiting relatives or friends, they might know someone willing to loan the items needed. Hotels often offer cribs if reserved in advance. Rental cars can provide car seats. Zoos and other theme parks often have strollers available for rental.
There are a number of companies (such as Babysaway) that will rent cribs, strollers, high chairs, and more. Doing an internet search using the terms "rent baby equipment" will yield a number of companies that can provide these items locally, nationally, and internationally.
Another option is to purchase lightweight travel versions of some of the equipment. A stroller frame that holds a car seat, a folding umbrella stroller, or portable crib are far more convenient for travel. Also, some items can provide more than one function: a stroller can double as a highchair and can provide a place for naps on the go; zip-loc plastic bags can provide smell-free diaper disposal in lieu of a diaper pail.
Babies also require countless consumable products such as diapers, wipes, and formula. Besides carrying enough for the entire vacation, there are a number of options for parents: packing half and purchasing the rest after reaching the hotel; assembling, packing, and shipping a box of these items from home; or, hiring a company (such as Babiestravellite) that will perform this function.
Packing Clothes for Baby
The clothes parents should pack for baby depend on the intended destination. As for the number of clothes to bring, parents should expect to do laundry or have it done at least every five days, thus dividing the total vacation days by this number and adding two will give a base number of outfits to bring.
Parents should add any additional particulars required by the destination (e.g. beaches require lighter clothing than does a theme park), taking into consideration possible inclement weather. It is a good idea to also bring one outfit for warmer weather than expected and one for cooler weather. If traveling by plane, parents should include an additional outfit or two in carry-on-luggage to cover leaky diapers or travel delays.
Most hotels wash and fold clothes for guests but it usually takes a long time and can be expensive. Some offer washers and dryers for guests to use. To enable washing clothes in the hotel room, parents should travel with a sink stopper and Woolite packets. Clothes can be wrung out rolling them in a towel and dried by placing them on a travel clothesline.
Customized First Aid Kit and Other Essentials
One item that is often neglected but essential to pack is a customized first aid kit for travel. Even if a child is seldom ill, she may react poorly to a change in environment; even if the items can easily be purchased at the vacation destination, it is often inconvenient to do so in the middle of the night.
The first aid kit should include small amounts of all prescription medications and over the counter preparations used in the past months such as pain reliever, bandaids, first aid cream, diaper rash cream, teething preparations, and sunscreen. It should also include health insurance cards and a list of essential phone numbers such as the family's pediatrician as well as medical centers approved by the child's health insurance plan.
To assist with feeding baby, parents should assemble a kit that includes plastic bowls, baby utensils, burp cloths, dish washing liquid, bottle brush, and sponge as well as an insulated food container with ice pack. Tupperware containers and plastic zip loc bags can store snacks.
It is also useful to take a small kit that includes repair and safety items such as duct tape (which can be used on diapers with unreliable closures), small sewing kit with scissors and safety pins, a flashlight/ night light, electric outlet covers, and string/twist ties for tying drape cords or cabinets closed. (Dental floss can also serve as a clothesline in a pinch.)
Familiar entertainment items will go a long way towards making baby feel secure. Parents should bring baby's favorite books, toys, and stuffed animals. Also, it is helpful to bring baby's music on an MP3 player with small speakers to soothe and calm him or her if needed.
Computerized Pack List
Finally, parents should save a packing checklist of essentials on the computer. The list should be revised after the trip based on experience and should be tweaked for subsequent trips as necessary. The printed list with check-off boxes will also help keep track of items that have to go into the suitcase bound for home.
Packing for Stress-Free Travel With Baby
By leaving the bulkier baby equipment at home while making sure to pack smaller essentials that can address baby's health, comfort, and safety, parents can have a more relaxing vacation with their child.
---
Have you tried beard grow xl yet? Go to the website and read review.
You should to know how to stop cats from spraying, it have not been so easy before.
What electronics supplies you need at home?
The best gun safe must to be strong enough, to restrain natural disasters.